When you have your furry best friend with you on the road, you may be looking for dog-friendly national parks. Plenty of national parks has strict pet policies which only limit pets to go to the most developed areas. However, there are some national parks that are dog-friendly; just make sure that you keep a couple of guidelines in mind when you bring your pups to the parks with you.
1. Acadia National Park: Located in Maine
The first one on our list is Acadia National Park which is located on the coast of Maine, and it can easily be your dog's favorite friendly national park. Your pets are welcome on nearly all 120 miles of the hiking trails and 45 miles of the carriage roads that are in the park. However, there are a few trails that are an exception since they require climbs using iron rungs or ladders.
Most of the dogs are allowed in most public areas in Acadia National Park. The places that your furry friends cannot go to are Duck Harbor Campground, Echo Lake Beach and Sand Beach, and Wild Gardens of Acadia during the high season, which is between mid-May to mid-September. Aside from these places, your dogs are welcome to join you, even on the free shuttles that go around the park.
There are a couple of rules that you need to follow: BARK. B is for 'bag your poop,' which will help the park clean. Make sure that you collect and dispose of your dog's waste at all times. Be sure to carry the poop bag when you are on the trail, and you can find public garbage cans all throughout the park. Take note that dog feces are not a natural fertilizer, and they can carry different diseases such as parvovirus, giardia, and roundworms.
A is for 'always wear a leash' where your pups would need to be restrained on a leash no longer than six feet or two meters. If you have a retractable leash that extends beyond this, it won't be allowed. Keeping the leash on your dogs at all times will protect them from becoming lost and away from wilderness hazards.
Now, there are some people in the park that are not dog people, no matter how friendly and well-behaved your dog may be. You have to remember that dog-friendly areas are a privilege, and it could be lost if leash regulations are not followed correctly.
Some people, especially children, are frightened by dogs, even small ones. Uncontrolled dogs can present a danger to the other visitors at the park. Leashes also protect the experience of other visitors who are afraid, allergic, or do not want a dog approaching them.
R is for 'respect the wildlife' since dogs can chase and threaten the wildlife in the park. They can scare away animals from nesting, feeding, and resting. The scent that is left by dogs can signal the presence of a predator, which can disrupt or alter the behavior of park wildlife. Small animals will hide in their burrow the entire day after smelling a dog and may not go out to feed.
K is for 'know where to go,' which means know where you should and shouldn't go with your dog. As mentioned above, there are some parts of the park where dogs are not allowed to be. Blackwoods, Schoodic Woods, and Seawall campgrounds are some of the places where you can bring your pups with you. Pets are allowed for day hiking at Isle au Haut.
2. Congaree National Park: A Dog-Friendly Boardwalk Trail
Congaree National Park has the largest intact expanse of old-growth bottomland forest in the southeastern part of the United States. They welcome both visitors and their pets. You can enjoy all the trails with your leashed pups, including the boardwalk and campgrounds.
You can find a floodplain where the Congaree and Wateree Rivers meet and support an amazing number of plants and animals, including national and state champion trees. Here, you can rent a kayak or canoe so that you can immerse yourself in nature and observe the wildlife from the water.
During spring, most of the trails flood, so make sure that you plan your trip accordingly. When the water recedes, the mosquitoes will arrive in full force. So, if you want to enjoy your trip, make sure that you pack a lot of insect repellant.
You can enjoy a waterway that passes through a primeval old-growth forest that contains some of the tallest trees for your canoeing and kayaking activities. There are plenty of opportunities for viewing different types of wildlife such as river otters, turtles, deer, wading birds, and even the occasional alligator.
The Cedar Creek Canoe Trail winds approximately 15 miles through the Congaree Wilderness, which starts at Bannister's Bridge and all the way through the Congaree River. You will be required to bring your own canoes or kayaks with you. When you don't have your own equipment, there are a number of professional outfitters in the city of Columbia where you can rent canoes, kayaks, and other paddling equipment that you may need.
You have to take note that the park doesn't rent out kayaks or canoes. There are also different outfitters that hold commercial use authorizations that allow them the ability to offer guided paddling tours in the park, and they will also drop off the equipment in the park. Make sure to contact these outfitters directly for their schedules, prices, and other information that you may need to know.
3. Yosemite National Park: Where Pets Are Allowed In All Campgrounds
Yosemite National Park allows pets in all campgrounds except for walk-in campgrounds and group campsites. You will also get plenty of sightseeing action together. Leashed pets are allowed on the sidewalks, roads, and bicycle paths unless otherwise stated on the rules of the park. Now, dogs aren't allowed on the trails, and they are able to join you on the Wawona Meadow Loop.
The Wawona Meadow Loop is a beautiful 3.5-mile hike that will take about two hours to complete, which is a great way to bond with your pups. Your furry friends are also allowed in developed areas.

Your pets should be restrained on a leash that is no more than six feet long, or they should be physically restrained. The pets should not be left unattended, and for the courtesy of other visitors, human companions are responsible for cleaning up and taking care of their pet's feces in trash receptacles.
Also, remember that pet food is also bear food, so you should store the pet food as if it were human food. During the summer season, expect high temperature and elevation, which can affect your pet. Make sure that you have enough water, snacks, and paw protection from the hot pavement.
Pets are not allowed on Vernal Fall, but on the Wawona Meadow Loop, pets are allowed. They are also not allowed on unplowed roads covered in snow, undeveloped and wilderness areas, public buildings, shuttle buses, and loading areas. You also have to take note that there are no exceptions to these pet regulations for carried pets, whether in arms, carriers, strollers, or backpacks.
4. Zion National Park: Located in Utah
As long as you keep your pups leashed, they are allowed in all the developed campgrounds and picnic areas at Zion National Park, which is located in Utah. For trails, your pups are only allowed on the Pa'rus Trail, which is a 3.4-mile trail that has fantastic scenic views of the peaks and temples of the lower canyon that you can enjoy.
Since Zion National Park has been actively monitoring the water for the presence of harmful cyanobacteria and cyanotoxins in the Virgin River within the park, it is best to keep your pets out of the water. Dogs are vulnerable to cyanotoxin exposure, and it can be difficult to control how they interact with potential toxic algal mats.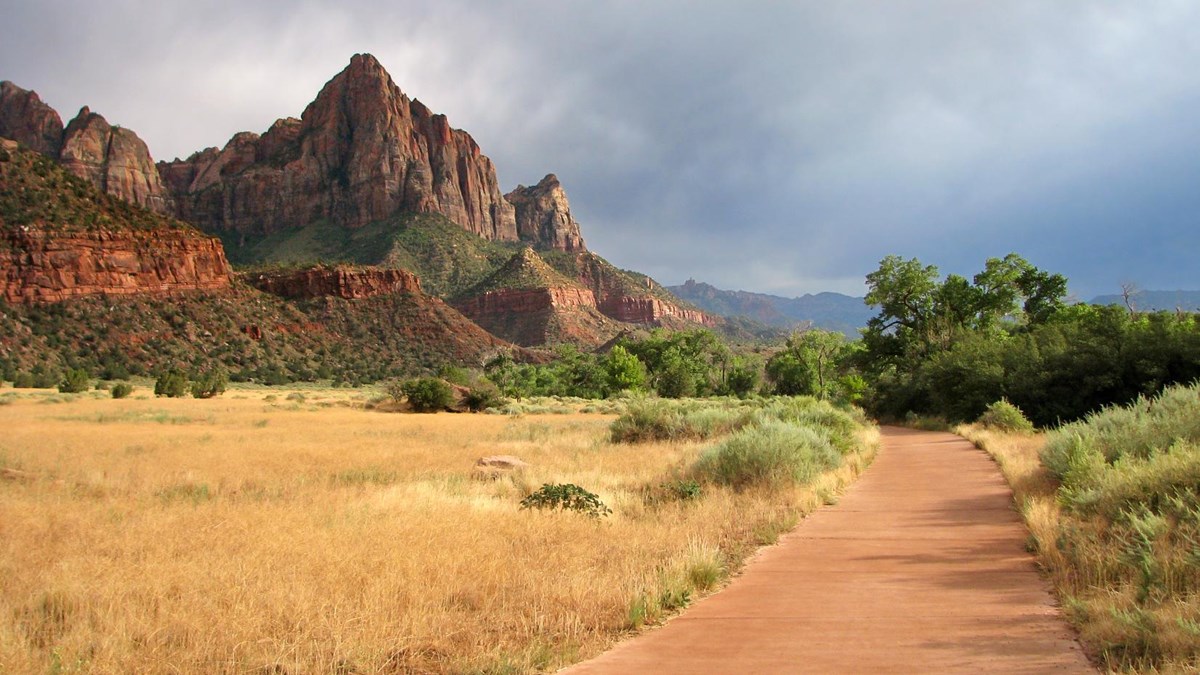 Dogs that are properly restrained are welcome along public roads and parking areas. They are also allowed in developed campgrounds and picnic areas and on the grounds of the Zion Lodge.
Remember that Zion is hot, and pets should not be left unattended. The interior temperature of a vehicle can warm up quickly to dangerous levels during most months of the year. When you leave your pet unattended in your vehicle with the environmental conditions, it can pose a health risk to the dogs is prohibited.
Properly restrained pups are allowed to be left unattended in developed campgrounds areas only when the environmental conditions are safe for the pups and the animal is not making unreasonable noises such as barking or whining as it can bother other people on the campground.
When it comes to service animals, they can accompany their owner in all park locations. Under the Americans with Disabilities Act (ADA), they are defined as dogs that are individually trained to do the work or perform tasks for those with disabilities. For dogs whose sole function is to provide comfort and emotional support are not qualified as service animals under the ADA.
5. Wrangell-St. Elias National Park and Preserve: Located in Alaska
There may be times that you feel there are fewer rules up north. At Wrangell-St. Elias National Park can visit the backcountry, trails, and the Kennecott Mines National Historic Landmark area. However, pups cannot enter visitor centers. Having said that, the park recommends keeping your dog leashed at all times that you are in the park since trapping is common in the national preserve.
Your furry friends should also be leashed in landmark areas and on the immediate grounds around the contact stations, which include the Headquarters Visitor Center at Copper Center and the Slana Ranger Station, the Chitina Ranger Station, and the Boreal Forest Trail.
Now, pets are not permitted into public buildings in the park, except for service guide dogs accompanying visually impaired or deaf people. As mentioned above, pet trapping is common in Alaska from the fall through the spring season. An unleashed dog can be caught in traps or snares, and maintaining physical control of your pet is important since it is your responsibility to prevent harm from happening to your pet.
Pet parents should be able to control their pets and not allow them to make noise considering location, time of day or night, park users, or that frightens wildlife by barking or howling. Always remember to clean up after your pet and dispose of waste properly in the trash container that is located throughout the park.
For the hunting areas, dogs may be used in support of the activities in accordance with applicable Federal and State laws. Dogs that are running at large may be impounded, and the owner might be charged reasonable fees for kennel or boarding costs, veterinarian fees, transportation costs, feed, and disposal.
Impounded pets may be put up for adoption or otherwise disposed of after being held for more than 72 hours from the time the fur parents were notified. For landowners, they are not required to keep their dogs on a leash if they are on a specific private property.
6. Hot Springs National Park: A Very Dog-Friendly Park
Just like the other national parks that I have mentioned above, Hot Springs National Park is a very dog-friendly area. Your leashed dogs can trek all 26 miles of trails that are available in the park and also allowed in the campground areas. There are Pet Waste Stations that are located on both ends of the Bathhouse Row as well as the campground.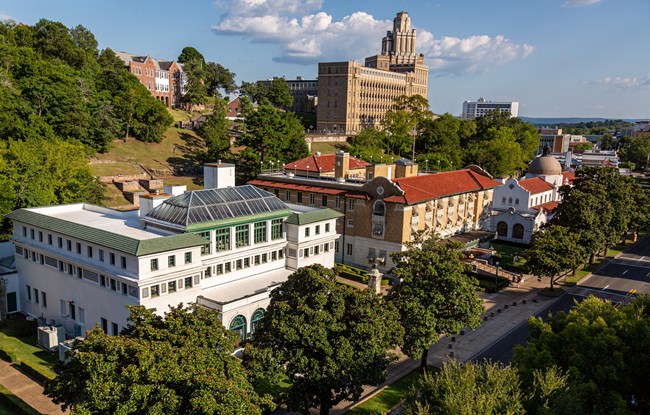 However, pets are not allowed inside the park buildings or bathhouses. If you do need to go to these places, your pups should wait outside for you. Never leave your pets unattended in the car as heat poses a threat to pets and can be dangerous for their health.
Make sure that you plan ahead before going to the park. Take enough water with you, and make sure that the pavement is not too hot for pets' paws. If the pavement is too hot, it is best not to take them with you on the trails. Certified guide animals are an exception to the pet park rules and may accompany their owner in all park locations.
7. Grand Canyon National Park: Highly Visited Trails in the US
Your furry best friend is allowed on all the highly visited trails above the Grand Canyon's South Rim. It includes the 13 plus mile Rim Trail that features outstanding panoramas with the rust-colored ravine. Pets are not allowed to ride the shuttle buses or go below the rim, but they are allowed at both Mather and Desert View Campgrounds. They are also welcomed in Trailer Village and throughout other developed areas.
The Yavapai Lodge provides pet-friendly rooms where you can board your dogs at the South Rim Kennel if you want to hike the canyon without them. On the other hand, pets can walk the Bridle Path and the portion of the Arizona Trail that runs to the entrance station in the North Rim area. However, no kennel is available in this part of the park.
Grand Canyon loves dogs, whether they are big ones, small ones, fluffy, or sleek ones. Just like any other park on this list, you would have to follow the standard rules when bringing pets into the park.
Your pups are not allowed below the canyon rim. The inner canyons are narrow and have steep sections, and are well-traveled by humans, wildlife, and mules. Dogs can be unpredictable on the trails, and hikers or runners can spook pets as well as cause an accident.
There is also a chance that pets can harass or harm wild animals by making noise, catching, or chasing them. Pets can attract predators like cougars or coyotes looking for easy meals. Since pets are never allowed below the rim of the Grand Canyon, service animals are allowed as they assist humans who have disabilities. Make sure to check in with the park's Backcountry Information center about your service animals.
8. North Cascades National Park: Offers Incredible Hikes
At North Cascades National Park, dogs can't go on most trails, but there are a few trails that they can hike, and they are incredible. Pets are allowed along all 18 miles of the Pacific Crest Trail and are also welcomed in the adjoining Ross Lake and Lake Chelan National Recreation areas. You will have plenty of room for a fun adventure with your pups.
You can explore the park with your dog within 50 feet of roads, but service animals are allowed in all the places in the park. You can walk your dogs a few miles of the national forest bordering North Cascades Highway, and it is perfect for an afternoon outing with your pups.
If you are not sure on what locations you can hike with your pet, you can give a ring to the Wilderness Information Center before heading to the park. Make sure always to be a responsible pet owner and keep your dogs on a leash as it is respectful to others and it is in the law. Pick up after your pet, and don't leave pets alone in your car while hiking.
9. Indiana Dunes National Park: Amazing Beaches and a Great Way to Cool Down
Indiana Dunes National Parks allow leashed dogs to have fun on many beaches and cold down in Lake Michigan. Before heading out to the park, you have to check the dates before since pets can't visit particular beaches from Friday of Memorial Day to Monday of Labor Day. Having said this, you and your pup can explore every beach east of the adjacent Indiana Dunes State Park and all the trails as well as beaches within the park year-round.
Dogs are allowed on all the trails except for Great Marsh, Glenwood Dunes, and Pinhook Bog. Pets on beaches should be on a leash at all times, even when they are swimming in the lake. Pet parents that will allow to chase birds or harass wildlife are subjected to some kind of citation.
You should also be responsible for carrying waste off the beach. Your pets are not allowed in the lifeguarded swimming area, which is in West Beach from Friday of Memorial Day weekend through Monday of Labor Day weekend.
10. Great Sand Dunes National Park and Preserve: Great For Dune-Loving Dogs
For dogs who love dunes, the Great Sand Dunes National Park and Preserve is the best place for them to go to. Pets are allowed to play on the massive, sandy hills up to the first high ridge. With this range, it will allow them to explore miles of off-trail experience. All you have to do is pay attention to the temperatures since the afternoon sun tends to swell and can get as hot as 150 degrees in the summer.
Away from the dunes, you can bring your pups on the Dunes Overlook Trail and in the Mosca Pass Trail, as well as all of the developed campgrounds and all picnic areas.
Your pets aren't welcomed in the bathrooms and visitor center, the backcountry of the dune field, which is located beyond the first high ridge of dunes, and off of the Dunes Overlook Trail. They are also not allowed in the North of Castle Creek Picnic area, except along Medano Pass Primitive Road, and in the North of Point of No Return, including Sand Ramp Trail. Lastly, your pups are not allowed in any backpacking campsites which is located inside the national park.
There are some safety precautions that you need to remember when you are bringing your pups along within the Great Sand Dunes National Park and Preserve. The desert grasslands surrounding the dunes are full of prickly pear cactus. When walking your pet through the grasslands, walk slowly and carefully so that you can avoid any injury to your pet from the sharp spines.
It is best to bring along some tweezers or pliers if you plan to take your pup to the Great Sand Dunes National Park and Preserve for a precaution.
Another thing to keep in mind is not to let your pet get too close to a wild animal. A deer may kick, mountain lions or bears can attack, coyotes may chase, porcupines may release quills, and badger may bite your dogs. On some rare occasions, coyotes or other animals may approach your leashed pets. If this happens, raise your arms and shout loudly; since doing this, coyotes will typically run away.
Make sure to report any unusual encounters that you have with a park ranger. Don't leave any pet food out on your picnic site or campsite as it can attract wild animals.
Enjoy Different Adventures With Your Pups
It's fun to take your doggos with your outdoor adventures, especially when there are beaches and hiking involved. There are plenty of national parks that are pet-friendly, and I've listed a few of the above. Just always make sure that you be a BARK agent at all times when you are in the national parks. Always preserve what mother nature has to offer for us to enjoy. If you want to know what is th best dogs for van life, here is an article
that I have written for you. Happy adventure!